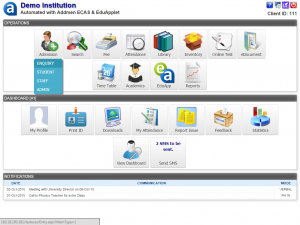 Admission process is the all-embracing task for all the educational foundations like schools, colleges, universities or tuition classes. Addmengroup provides the student admission management software with the help of this software we can manage all the activities related to the admission process such as to check the admission forms, to collect the fees, making fee receipts and to transfer the information of that particular student into the organization's database. This software saves the time and manpower too. Let's see how student admission management software which is integrated in the ECAS helps to all educational foundations.
Enquiry
Enhanced Campus Automation Software has the Admission module in that module there will be the enquiry section.
Organization's Workforce member and the counselors can enter the detailed information of student.
With the help of Admission module one can keep a track of the follow up done by the staff members.
A separate web interface is provided within that module, so that students can be able to enquire about any queries related to the course.
This module keeps the enquiry communication record. With the help of that record user will come to know about the status of each student's admission process.
As this software keeps the records of enquiries and follow-ups, we can search for these records by making the use of filters.
Admission
We can restrict the access to this module of the software. So that only staff members allowed to access can work in the admission section.
If student wants to begin the admission process then, the user would be taken to an online admission form. User has to fill the required fields of information exactly.
If the students information is found in the enquiry section then, that students can openly bought to the admission section.
The information fields in this form can be adjusted effectively. It is conceivable to include fundamental fields, change the names of existing fields and in addition erase those that are not required.
We can add the different types of fields like selectable, compulsory, direct entry, numeric/text etc.
Also the webcam is provided to upload or capture the photos and signature of student, his/her father, mother and guardian.
This software can store the basic details of the student; also it can store his other details like academics, hostel, family, alumni, languages etc.
The student admission management software is flexible and valuable to a certain extent. It eases the admission procedure and makes possible to have the details of all the student at one place. On the off chance that your foundation has a few branches, you can get to the enquiry and admission records of all the branches from a solitary area.